Julia Jesuit Rising Star
Julia Jesuit, Senior Manager of Healthcare Reimbursement & Advisory at HORNE LLP, has been named the 2019 MSCPA Rising Star and will be recognized during the Business Meeting at Convention on Saturday, June 22.
Shortly after joining the Society in 2012, Julia began her tenure in leadership roles in Central Chapter where she served as President, Vice-President of Programs, Vice-President of Membership, and Treasurer. She is currently serving her second term on the MSCPA Board of Governors, having been elected twice by the Central Chapter as their representative. Under her guidance and commitment, Central Chapter experienced a resurgence in attendance, and she has been instrumental in encouraging others to take on leadership roles to continue the success. She was also selected to be a member of the Nominating Committee of the MSCPA for choosing the slate of officer candidates.
Julia has served as the Millennial Chair of the Health Care Services Committee and has been influential in organizing and conducting the Health Care Services Conference. She will serve as Committee Chair for the 2019-2020 year. Julia is also active in the Healthcare Financial Management Association (HFMA), as both a participant and a presenter.
Julia is a young leader at HORNE LLP and has a strong bent toward service to the profession and the community more broadly. She is a trusted business advisor serving many of her firm's largest and most important clients in her young career and is a role model for others. She has served on a multitude of internal HORNE initiatives, including their technology proof of concept team, their pricing model team and their strategic planning as a service team. She is a graduate of HORNE's Sponsorship program and has also served on their "BeBetter team" which is an employee committee that creates change and solves business problems through collaboration.
Julia has been an active participant and project leader for HORNE's Summer of Service program for several years. She planned and led their project at In His Steps Ministry in Canton and has participated fully in others at the Jackson Zoo and various animal shelters. Julia also served on HORNE's Sunnybrook Council for five years, planning activities and game nights with the Sunnybrook children once a month.
Julia is a great representative of our profession. She has a heart for service and a track record of leadership. She is a graduate of Millsaps College.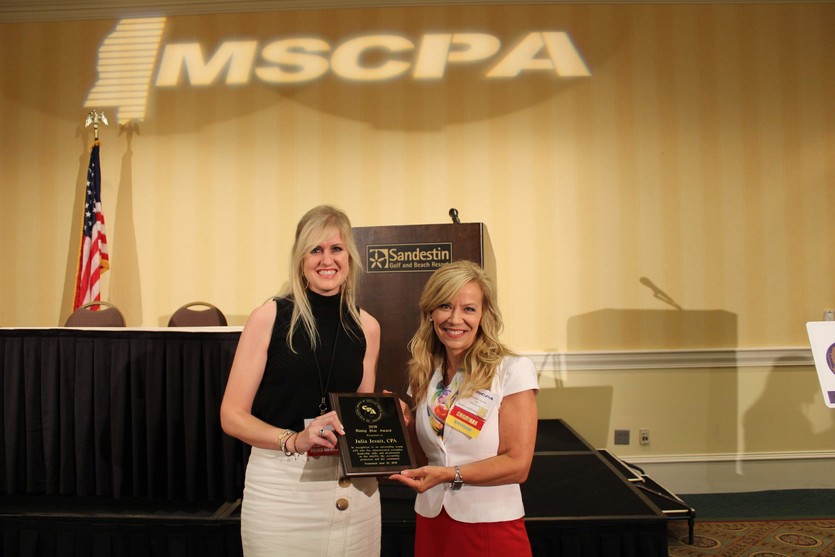 ← Back to News