Charles Lindsay Public Service Award Winner
Charles Lindsay, Shareholder at Matthews, Cutrer and Lindsay, P.A., has been selected as the 2019 MSCPA Public Service Award winner and was recognized during the Annual Business Meeting on Saturday, June 22. Charles exemplifies outstanding volunteerism and civic service to our community and to our profession. He devotes countless hours and expertise promoting and enhancing Mississippi's charities as a CPA. The MSCPA Not-For-Profit Committee (2001) is the result of his initial conceptualization. Charles' involvement with this committee has been consistent from its inception and includes serving as a member, CoChair, and Chair. Charles helped develop the MSCPA Not-For-Profit Conference that now enjoys a reputation that attracts speakers from all over the nation.
Charles represents the CPA community as a frequent speaker on nonprofit accounting, management and governance issues. He has been part of the AICPA Not-For-Profit Conference planning committee and represented MSCPA on the Mississippi Secretary of State's committee on Transparency and Compliance for Nonprofits. In 2013, Charles was recognized by the Mississippi Business Journal as a recipient of their "Leaders in Finance" award.
For many years he has given of his time to the Mississippi Center for Nonprofits, a statewide organization dedicated to strengthening the capacity of nonprofits in Mississippi. He has volunteered as a Trainer, Board Member, Executive Committee Member and as Treasurer. For the last two years he has served on a steering committee guiding efforts to merge the Mississippi Center for Nonprofits with the Mississippi Association of Grantmakers.
Over the past 35 years, Charles has volunteered his time in support of public education. Appointed by the Mayor of the City of Jackson, Charles served a seven-year extended term as a member of the Jackson Public School Board of Trustees. He served as Board President for two years. As he completed his service, Jackson voters approved a $150 million-dollar bond issue to fund improvement of school facilities across the City of Jackson.
He is committed to public education and has served on the board of Better Schools Better Jobs since its inception. This organization brought forth a statewide ballot initiative in 2016 aimed at fully funding public education. He has also been involved on the governing boards of Parents For Public Schools locally and nationally. He served as the local chapter President, the national Treasurer and Vice-President. These national roles support chapters in 26 states.
Charles' commitment to children also can be seen in his service to the board of Operation Shoestring, an inner-city program serving Jackson's youth. He also currently serves on the board of the Andrew Jackson Council of the Boy Scouts of America, where he has served as Treasurer and Audit Committee Chairman. Charles is one of six Mississippians to receive the Order of the Arrow, he National Distinguished Service Award for service to the Boy Scouts of America.
Charles is involved in many civic and community organizations. He is Past President of the North Jackson Rotary Club and a charter member of the Keystone Fund of the Junior League of Jackson's Board of Directors. He is former Chairman of the Central MS Chapter of the American Red Cross and is a recipient of the J. Tate Thigpen Award in recognition of exceptional administrative and leadership contributions. He has also served on the Catholic Charities Advisory Board.
Charles is married to Virgi Stewart Lindsay. They have two grown children, Chaz and Mary-Michael. He and his wife live in Jackson's historic Belhaven neighborhood where he is a board member and Treasurer of the Greater Belhaven Foundation. He is active at St. Richard Catholic Church where he has taught Sunday school, served as Chairman of the Church Finance Committee and on the Parish Council.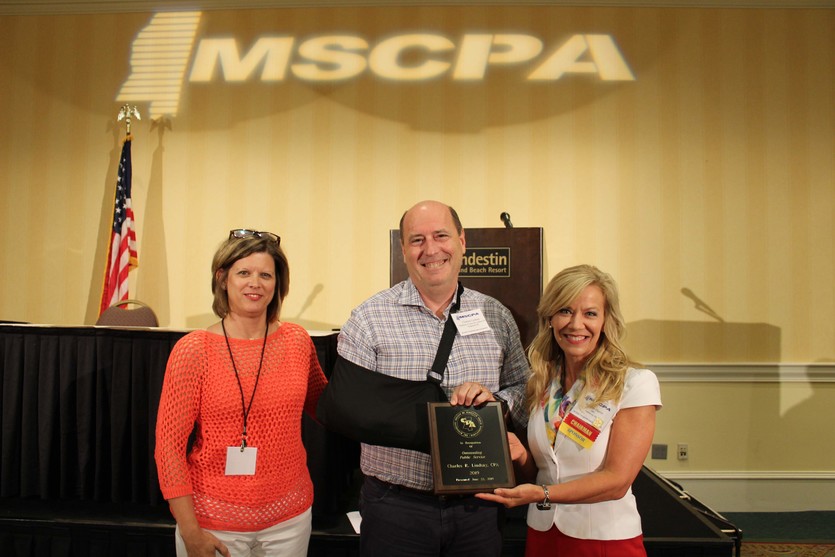 ← Back to News