MSCPA Monitors Legislation on State and National Levels
With the current Legislative session in progress, the MSCPA continues to monitor bills affecting the profession on both the state and national levels.
On March 1, a meeting was held with Kymberly Messersmith, Managing Director of Political Risk and State Government Affairs at KPMG. She is also Mississippi's liaison in the Accountants' Coalition which was formed in the mid-1990s by the national accounting firms for the purpose of achieving legislative reforms. It has since evolved into its current form of promoting the best business environment for the profession while also promoting the fiscal health and competitiveness of each state. Ms. Messersmith is monitoring legislation in Mississippi and other states and offering assistance and materials as needed. On the national level, the Coalition works closely with the AICPA and NASBA to consider broader policy objectives and discuss key state initiatives. Attending the meeting were Linda Keng, Legislation Committee Chairman, Karen Moody, President/CEO, and Andy Wright, Executive Director of the Mississippi State Board of Public Accountancy, along with local KPMG members Mark Peach and Ashley Wilson.
MSCPA also attended the Business and Industry Political Education Committee's (BIPEC) 39th Annual Luncheon on March 7, at the Old Capitol Inn. This was an opportunity to visit with Mississippi Legislators and statewide officials and candidates. Representing the MSCPA were Paul Breazeale, Legislation Committee member (l), Karen Moody (c) and our lobbyist Stephen Clay (r) of The Clay Firm pictured below.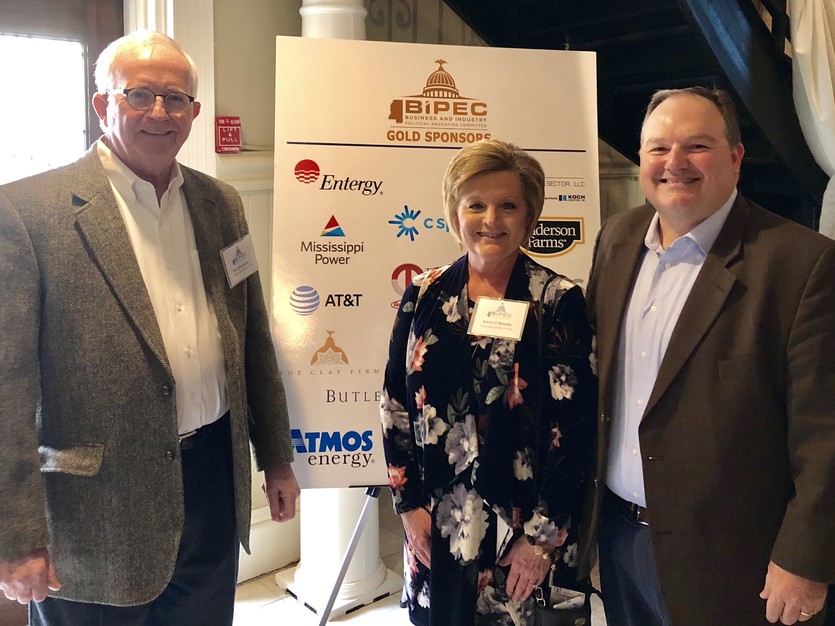 ← Back to News