Olivia Host Public Service Award Winner
Olivia B. Host, Partner at BKD, has been selected as the 2017 MSCPA Public Service Award Winner and will be recognized during the Annual Business Meeting on Saturday, June 24 at Sandestin Golf and Beach Resort.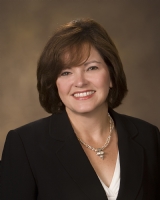 Host has a distinguished record of personal commitment to her clients as well as to the community working with charitable and civic organizations viewed as her responsibility as a professional to be a good citizen.  Her example of commitment to community service includes getting others involved as well.
Host serves as a board member for the Mississippi Children's Museum and the Mississippi Symphony League, and most recently on the steering committee for the Friends of Children's Hospital, a non-profit group dedicated to raising money for Blair E. Batson Children's Hospital.  She is also on the board of trustees for the Metro Jackson Habitat for Humanity and is hands on with the service displaying her carpentry skills.  Host has been involved extensively with the Junior League of Jackson having served as Treasurer and in many leadership roles on various community projects.   She has served on the Executive Leadership team for the American Heart Association's annual Heart Ball and has been recognized as a Woman of Distinction by the Girl Scouts of Greater Mississippi.  She was involved in many roles at Madison Ridgeland Academy over the years including director and past President of the board of trustees.
Host is a summa cum laude graduate of the University of South Alabama, Mobile, with a B.S. degree in accounting.  She has more than 27 years of public tax accounting experience with extensive experience in tax planning and compliance.    
← Back to News